Follow these steps to create a job and upload an invoice and baseline document.
(Note for Essentials and Essentials Plus customers:
If you haven't created your first job yet, this step is required to unlock the Dashboard and Supplier Scorecards. If you just finished the sign-up process and are the first user on your company account, you will be prompted to create your first job. If you skipped this step previously, click here and follow the steps.)
You may create jobs in two different ways:
Manually
Via the workspace email
Manual Job Creation
In the left navbar, click on the Jobs tab, then click the blue plus sign icon (located in the top right):

Next, drag/drop your invoice and baseline docs into their respectively labeled boxes (or click on either box to display the file browser to upload your files). Acceptable file types include: .xls, .csv, .doc, .pdf, and .txt. Only one invoice can be uploaded at a time, however, multiple baseline files can be uploaded at a time. Baseline documents include an original quote, contract, or a rated b/l. You are required to upload at least one invoice and baseline doc.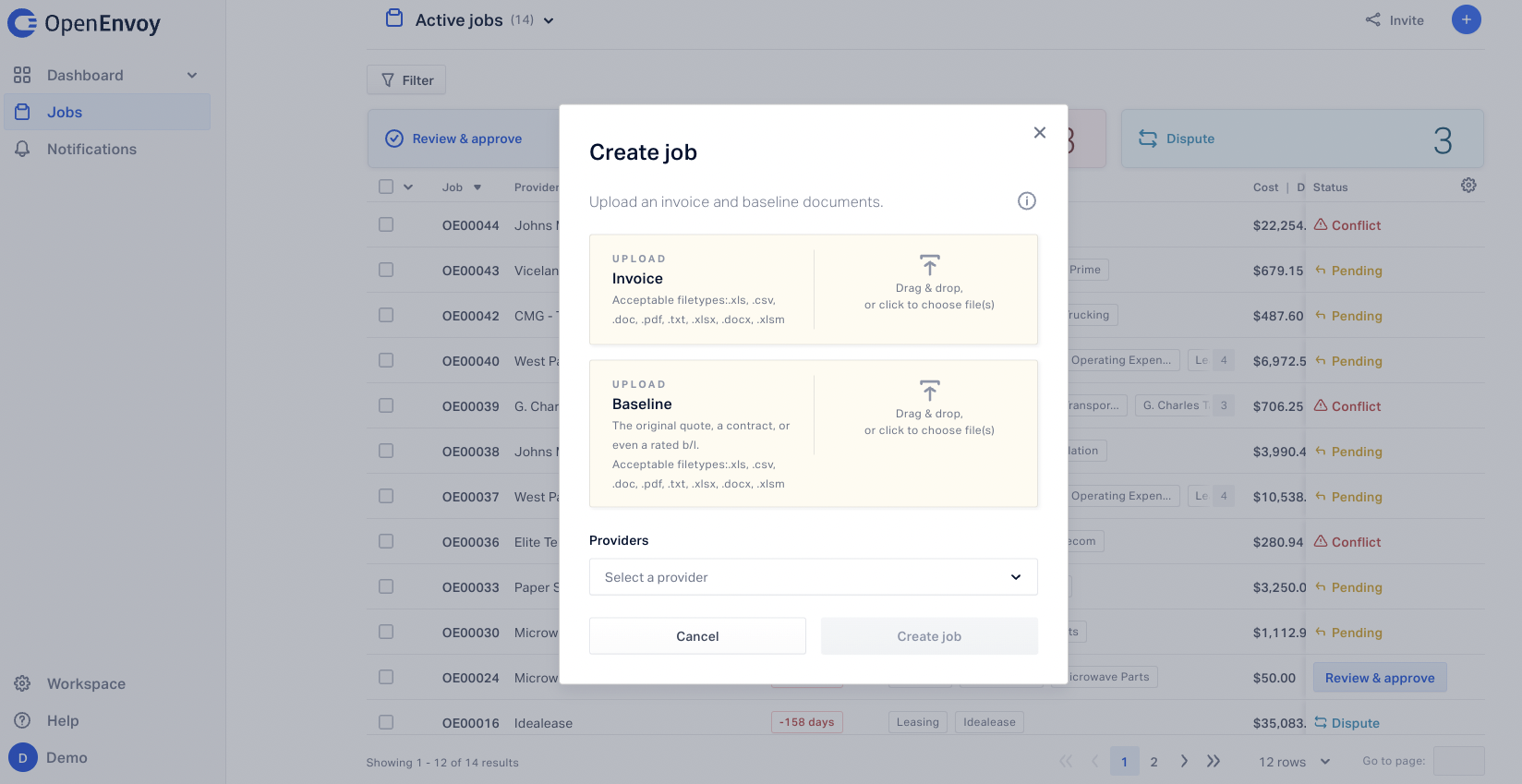 Select the provider and click "Create job".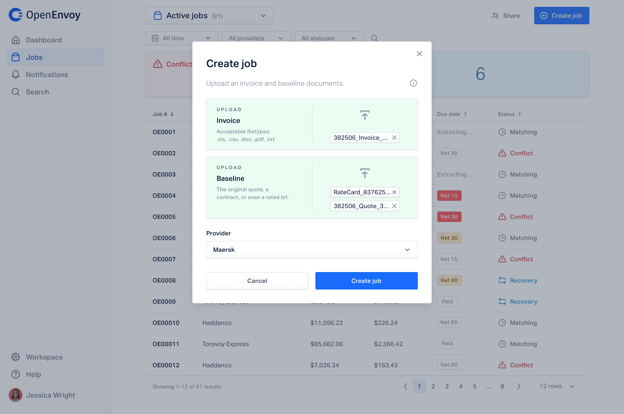 Once finished, a confirmation message will appear that includes a link to that job page.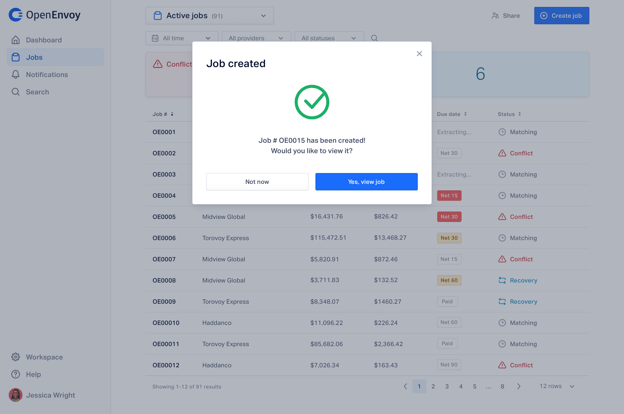 Most jobs are processed and matched within a few hours. Some complex jobs may take up to 24 hours to process. By default, you will be notified by SMS and email when the matching process is complete. You can update notification settings by clicking on your name, then Notifications, then making selections accordingly. You can also check your job status at any time by following these steps.
Using Workspace Email to Create Jobs
Additionally, a user can forward over invoices and supporting baseline documentation via your designated workspace email. The workspace email can be found in Workspace > Integrations.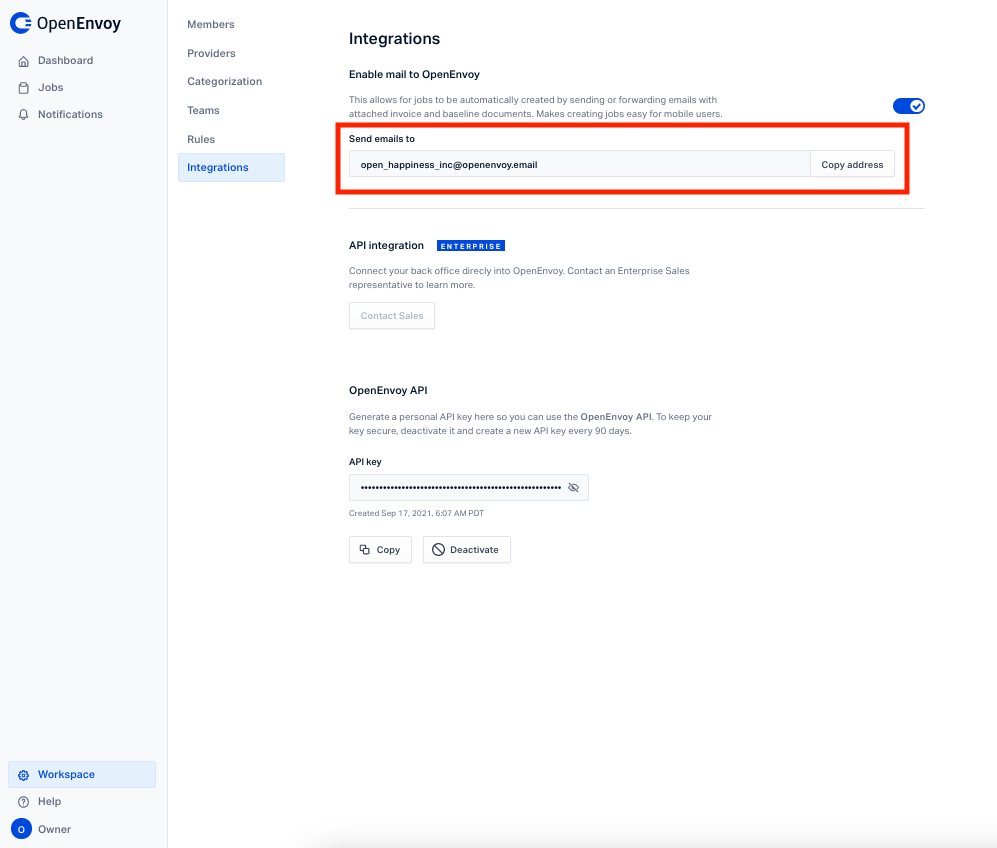 The workspace email can be addressed as the "To" or the "Cc" of the email.
You can attach up to 1,000 files, and will need to include at least one invoice to trigger the job creation.
It is recommended that you add more context about the files you are sending in the body of the email but it is not necessary.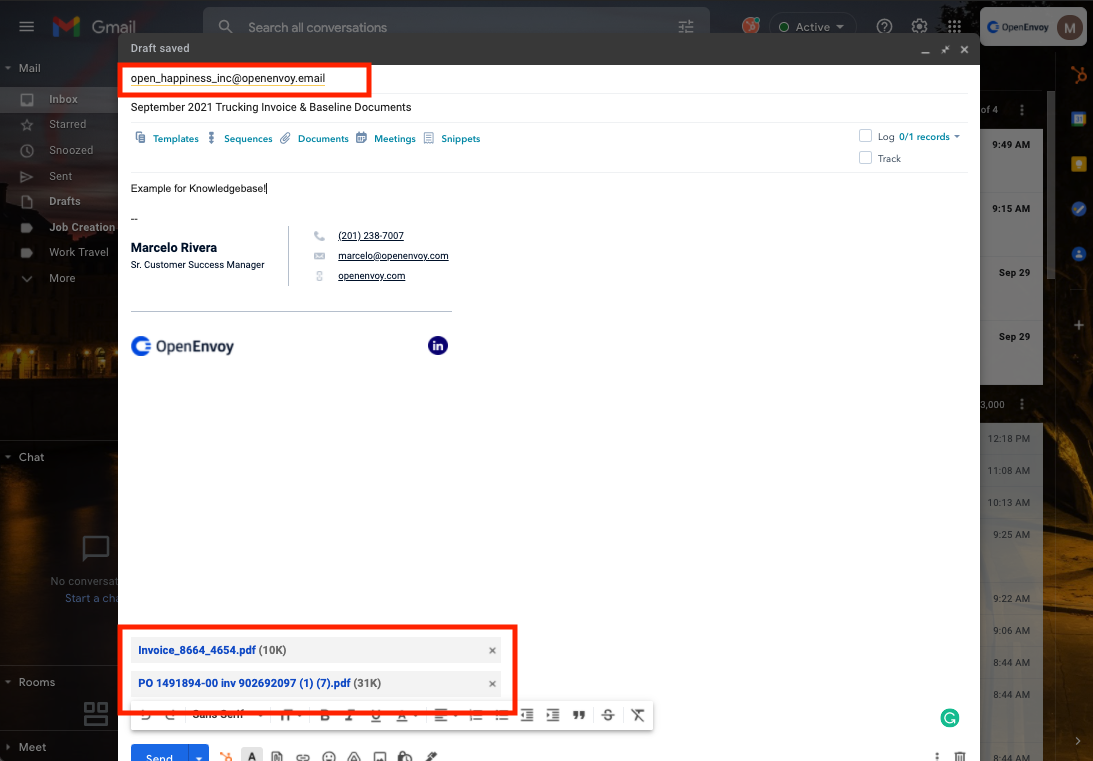 Acceptable file types include: .pdf, .png, .jpg, .xlsx, .csv, .xls, .jpeg, and .zip.
Please note:
Zip files are accepted up to 20MB (total attachment size of an email).
Emails may contain up to 1,000 files (including the zip file contents) per email message.
Should you run into any issues during the job creation process, please reach out to customer support via live chat or email at support@openenvoy.com.