View compliance of ocean freight detention and demurrage invoices directly in OpenEnvoy against the 13 fields required by the Ocean Shipping Reform Act of 2022.
On June 16, 2022, the U.S. Congress passed the Ocean Shipping Reform Act of 2022 (FMC S.3580). The Ocean Shipping Reform Act of 2022 mandates ocean freight carriers and providers include 13 elements on detention and demurrage invoices in order to be compliant (dated after June 16).
The 13 required fields are:
Date container is made available
Port of discharge
Container number or numbers
For exports, the earliest return date
Allowed free time, in days
The start of free time
The end date of free time
Carrier's applicable detention or demurrage rule on which the daily rate is based
The applicable rate or rates per the applicable rule
Total amount due
Email, telephone number or other appropriate contact information for questions or requests for mitigation of fees
Statement that charges are consistent with any FMC detention and demurrage rules
Statement that common carrier's performance did not cause or contribute to the underlying invoice charges
Using OpenEnvoy's compliance check:
OpenEnvoy provides an automatic check of the 13 required fields, with an indicator flag if an invoice is missing any of the 13 fields.
View non-compliant fields by clicking into a job:
Click 'view report' to see the non-compliant fields. Both the 'Fail' and 'Pass' sections can be expanded or collapsed.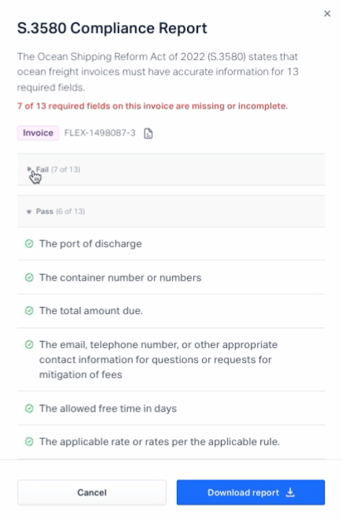 About the report
Click 'download report' which will contain the invoice pass/fail information for the 13 required fields.
About the report:
Download file format .csv

16 columns

Column names: OpenEnvoy job number, Provider, Created, 13 column names

Values for the 13 required fields will be Yes or N