Learn more about our subscription plans to determine what's right for your company.
We offer three subscription plans: Professional, Pro Plus, and Enterprise. The Professional and Pro Plus plans are available as either monthly or annual subscriptions. When you purchase an annual subscription you save 20% compared to paying monthly. Enterprise plans require custom quotes. Pricing will vary based on the unique needs of your company.
Our pricing is based primarily on invoice volume, with a nominal license fee of $50 USD per additional user. You can compare the cost of each plan on our pricing page, which allows you to see pricing based on an annual or monthly subscription, monthly invoice volume, and the number of users. You can also compare the full list of features offered for each plan.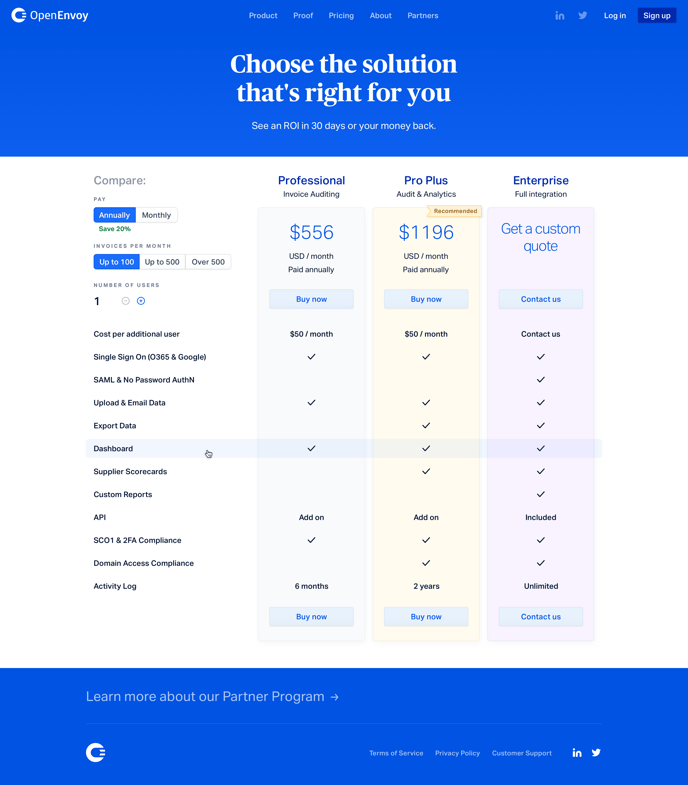 Which subscription plan is right for my company?
Professional Plan
If you're looking for the basics, namely invoice auditing, single sign-on, 6-months worth of activity logs, and a dashboard that shows you valuable insights from all of your audited invoices, the Professional Plan is right for you. With this plan, you can upload invoices directly to OpenEnvoy or via email to be audited.
Pro Plus Plan
This plan is ideal for those who require more than 6-months worth of activity logs and additional insights about suppliers. The Pro Plus plan offers 2-years worth of activity logs, which is ideal for auditing purposes. Because OpenEnvoy offers end-to-end documentation for processed invoices, including custom notes added by your team, it makes compliance for both internal and external audits easier and less time-consuming. In addition, the Pro Plus plan comes with the ability to export data, which saves valuable time. Finally, the Pro Plus plan offers insights about suppliers via supplier cards, which provide valuable information such as who your most accurate and inaccurate suppliers are and the impact on your business.
Enterprise Plan
Our Enterprise plans are custom plans based on the unique needs of your company. In addition, they come with the ability to create custom reporting and to integrate with our APIs so your invoices can flow seamlessly from your ERP system to OpenEnvoy and back. This plan is ideal for companies that manage a high volume of invoices each month.